THREE HILLS SCHOOL (K-12)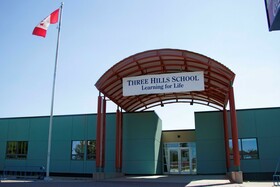 Three Hills School is a great place for international students to get involved and improve their English skills. School counselors help students to choose classes in which they will be challenged as well as successful, and ESL help is available during school. Teachers are always available for extra help in other subjects when needed. International students bond together and a special room is provided in the school to call their own and socialize. Help with post-secondary applications and preparation for English tests such as IELTS is available if needed.
International Week is celebrated in November with a chance for students to showcase their countries at a food fair and in cultural presentations in the K-6 classrooms. Other all-school events such as pep rallies Terry Fox Run and Remembrance Day ceremonies include students of all ages participating together and creating a community atmosphere. The MetoWe club focuses on student and community wellness as well as planning social activities, such as movie nights for the international and Canadian students. International students also integrate into the school and community through special volunteering opportunities, athletics, music, in-school sports and Drama. Individual achievements are celebrated at the Lunch of Champions, as well as awards given to students for academic achievements.
Three Hills School Prospectus       Three Hills School
Three Hills School (Grades K - 12)