STRATHMORE HIGH SCHOOL (10-12)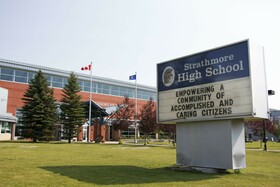 SHS welcomes and support their international students in a number of ways. The ESL program includes ESL classes, ESL counselling and regular curriculum English courses specifically for ESL learners. Extra tutoring is available through a tutor coordinator who matches the student's needs with available tutors. The counselling department and ESL coordinator can also assist international students with applications to post-secondary schools. Integration of international students with Canadian students is encouraged and supported in a variety of ways throughout the school year.
Special events focussing on the international program include an International Recognition week. Flags of the visiting students line the main hallway at the school and there is a map with their pictures linked to their home cities. Strathmore High recognizes various achievements of students through the Breakfast of Champions program, Recognition letters, as well as Merit Board and Honor Roll for academic achievements.
SHS Prospectus                Strathmore High School
Strathmore High School