Back to all posts
Posted on
University of Alberta Scholarship Awarded to Anakin Chan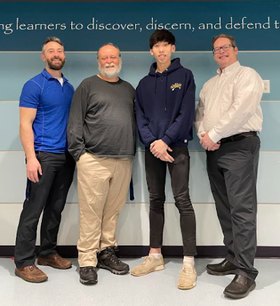 Golden Hills School Division, including Prairie Christian Academy and Golden Hills International, are very pleased and excited to share some wonderful news!  
Anakin Chan, one of our Grade 12 students from Hong Kong has been awarded The University of Alberta President's International Distinction Scholarship.  This scholarship is for students who show leadership skills and have a creative sense.  The scholarship is for 4 years and has a monetary value of $30k/academic year.  Anakin will be attending the U of A in the fall of 2022 in their Faculty of Arts with a focus on Media Studies. Congratulations! 
Anakin began his studies with Golden Hills International in 2019.  During Anakin's time with us, he has been dedicated to keeping great grades, playing varsity basketball and being a role model for all. Anakin has recently taken on the role of Resident Assistant in the dormitory.  
Anakin feels that his time at Prairie Christian Academy has prepared him for life after High School and is confident when recommending Golden Hills International to his friends.  
As Anakin gets prepared for this next chapter in his life; Golden Hills School Division, along with Prairie Christian Academy and Golden Hills International wish Anakin all the best!